Dodge is a carmaker based out of Auburn Hills, Michigan. It is an American brand owned by FCA US LLC, the corporation that produces Chrysler, Jeep, and Ram vehicles. Dodge was founded way back in the early 1900s by two brothers, Horace and John Dodge. Back then, it was a supplier that made parts for Ford vehicles. Today, it is one of the most popular brands in the U.S.
Dodge Vehicle Models
Click on your model below to see a guide.
Each page shows you all of the key fobs used for that model and a tutorial on how to change your battery at home. Or, you can scroll down to see a chart with each key fob and its information.
Dodge Avenger
Dodge Caliber
Dodge Caravan
Dodge Dakota
Dodge Dart
Dodge Magnum
Dodge Neon
Dodge Nitro
Dodge Stratus
Dodge Viper
How to change the battery in the "Rounded Red" Dodge key fob
Check Price on Amazon
How to change the battery in the "Rounded" Dodge key fob
Check Price on Amazon
How to change the battery in the "Teardrop" Dodge key fob
Check Price on Amazon
How to change the battery in the "Fixed Key" Dodge key fob
Check Price on Amazon
How to change the battery in the "Pear-Shaped" Dodge key fob
Check Price on Amazon
Frequently Asked Questions
What battery goes in my Dodge key?
The battery for your key depends on the type of key fob. Scroll up to the chart to see which one you have. The most common Dodge key batteries are 3v coin batteries like the: CR2032 and CR2016.
Check Price on Amazon
Check Price on Amazon
Where can I buy Dodge key fob batteries?
For the best prices, you can buy the batteries on Amazon. Your battery will come right to your door—no need to shop around the hardware store. Here are all of the batteries used in Dodge key fobs—click on your battery to buy on it on Amazon:
CR2032 battery
,
CR2016 battery
.
How much does it cost to replace a Dodge car key?
Getting a new battery at a dealership will cost you significantly more than doing it yourself. If you only need a new battery, you can order one on Amazon for a just few dollars and follow one of our tutorials to change it yourself. If you need to replace the entire key fob it will be more expensive.
How do you change the battery in a 2017 Dodge key fob?
It depends on what key fob type you have. Some years have many different key fobs in use at the same time—there is no one correct answer. See our table above to find your specific device. If you have a 2017 Dodge, you either have a "Rounded Red", "Rounded", or "Teardrop" key fob. Each of these devices take one CR2032 battery. Scroll up to see a full DIY video that will teach you to change the battery in these key fobs.
Check Price on Amazon
How do you change the battery in a Dodge Journey key fob?
Most Dodge models use more than one key fob. Click on "Dodge Journey" from the list on the top of this page to see which key fob type you have along with a full video tutorial.
Dodge Key Fobs—Everything You Need to Know
Eventually, the car remote you get from your dealer just might not work anymore. At that point, it's time to search for a replacement, but getting one from your dealer can be expensive. For a worry-free experience, it's important to know how to shop fobs for your select vehicle. This helpful guide simplifies everything about keyless entry fobs for Dodge vehicles. If you have a Dodge Ram, Dodge Neon, or any other Dodge car model, read our breakdown on key fobs for all the details.
Types of Dodge Key Fobs
Different Dodge models will have different fobs models, but they're all oriented towards models that you don't need to
manually unlock
to get into the car. Fobs function like a remote, and you can find which type you own by reading these explanations:
Keyless Entry Remote
Those with a Dodge vehicle are most likely to need this variety. It's a basic keyless entry fob device that lets you lock, unlock, or alarm your vehicle from a distance.
Smart Keyless Entry Remote
Select models have this device that allows drivers to start their vehicle with a button on the dashboard. As long as you have this device near your car, you'll be able to enter and use your vehicle without any hassle. While the start and stop dashboard button provide luxurious convenience, this type of key fob also comes with a built-in metal blade for emergencies—like when the battery is too low to communicate with your car. That way, you won't be stranded if your battery suddenly dies.
FOBIK
The FOBIK acronym stands for
frequency operated button ignition key
. This variety of key fob has a remote as others do, but the device itself functions as the ignition key. Though this form has no key blades in the base device, you'd still have an emergency key as you would with other fob types.
Remote Head
This variety offers some of the most well-priced products on the market. Where a keyless entry type might function separately from the key—or have it tucked into another part of the device—remote heads have the blade built into the fob. Flip remotes with rotating blades also fall under this category.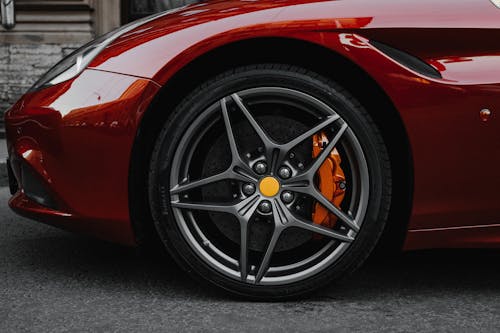 Frequently Asked Questions
Do you still have questions about buying a new dodge key fob or parts? Here are the most common concerns for those researching their product options:
How much does it cost to replace a Dodge key fob?
If you're shopping for a replacement Dodge key fob, you can expect to see products range from less than $30 to a whopping $440. Though it's worth noting that these prices are extremes—you're more likely to find products at prices somewhere in the middle. Shopping for parts will be more affordable than a brand-new Dodge fob. However, buying a new device may be better if your current one is particularly old—or if you'd just prefer a new one! To save money when you shop, make sure to compare the items from one brand to others. Shopping will be quicker on a marketplace site—such as Amazon inc.—where you can easily search and view information before you select items for your cart. If you have an account with an online marketplace, you may also save with free shipping options. If you opt for a smaller eCommerce site, make sure to check that the seller is reputable. A 2021 copyright, a customer service email address, or a number you can call for support all point to a safe site. Copyright, as well as a customer contact email, will usually be at the bottom of the web page. Taking time to find this information will help protect your money from scams. Plus, you'll save yourself the hassle of returns.
Are Dodge key fobs universal?
Most likely, you'll only get results from your new fob product when you program it for the right model. However, some Dodge key fobs have exceptions to this rule. For example, a smart keyless entry device for Dodge's 2018 Ram truck could fit Ram models from previous years.
Can I buy a key fob and program it myself?
Whether you can do Dodge key fob programming yourself will depend on that specific device. Most Dodge vehicles do not have key fobs you can program yourself. If your Dodge vehicle is from the early 2000s or before, there's a higher chance that you can try your hand at it. A Dodge key fob for a newer vehicle—like a 2021 Dodge Ram smart remote—is unlikely to have DIY programming options. The more recent the key fob is, the higher the chance you'll need an automotive locksmith or dealer for proper programming. Before adding a used replacement Dodge key fob to your shopping cart, make sure you understand the programming requirements. If you've already bought a keyless device for your car and it came with DIY instructions, you shouldn't need to go to an automotive locksmith or dealer. Don't hesitate to call, email, or otherwise contact customer service if you need help with the programming instructions.
Aftermarket Dodge Products
As you shop, you'll find that select vehicles have aftermarket replacement options—the most affordable choice for any Dodge car. An aftermarket replacement could cut the cost of a Dodge Ram product by several dozens if not hundreds. Note that a dealer may refuse to service you with aftermarket parts, and you can save time by finding an automotive locksmith beforehand.
Check Price on Amazon
The Bottom Line
Dodge vehicles have a wide range of entry device options, we've made things easier by breaking them down into different types. Your Dodge car fob could be keyless entry, smart, FOBIK, or remote head, and you'll find out specifics as you search for your car model. When you program your new key fob, remember that you can save time with a simple email or a call to your seller's customer support if you have questions. And, of course, feel free to bookmark our guide for future reference.